---
---
MURRAY SELL @ HUDSON VALLEY TATTOO COMPANY
Murray Sell from Flying Tiger Tattoo in New Britain CT will be with us at Hudson Valley Tattoo Company next weekend March 21st-23rd.
He has a few spots available but he's booking up quick. Call 845-298-8200 or email at info@hudsonvalleytattoo.com for appointments.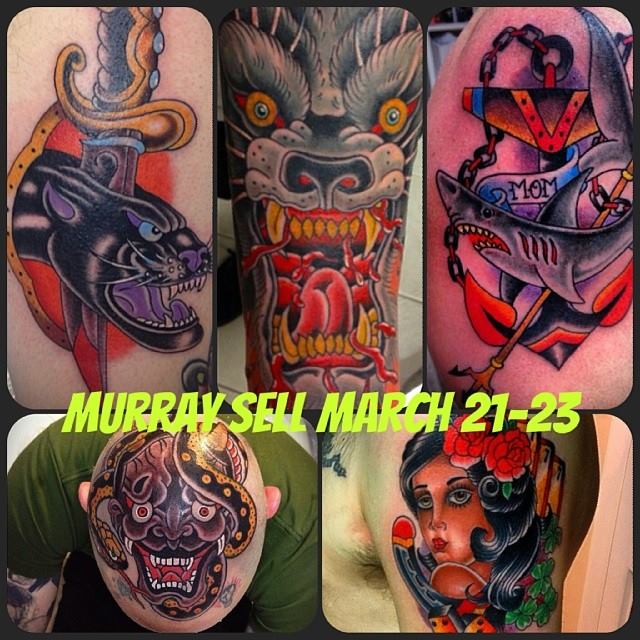 Hudson Valley Tattoo Company is Hiring
Hey fellas , we had a great start and we are looking to add another hi-caliber tattooer to the roster .
We are looking for someone with a killer portfolio , professional , drug and drama free. We have a very dynamic, relax and friendly atmosphere , where all egos and jealousy must be left out the door.
If you think this fits you , please email us at info@hudsonvalleytattoo.com
Cheers !!
Diego
Hudson Valley Tattoo Company
We had a great start here at HVTC , we have been open for less than a month and we are really busy tattooing and having fun with our friends and clients.
I would like to thank every one that came out to check out the shop and congratulate us on our soft opening . We have plans to have our Grand opening April 19th , more info will be coming soon .
We have a few trips planed for the near future , here is the list :
Electric City Tattoo Convention in Scranton PA, April 4th 5th and 6th
Roc City Tattoo Expo in Rochester NY, May 2nd 3rd 4th
Empire State Tattoo Expo in Whiteplains NY, June 20th 21st 22nd
The shop will remain open while Shish and I are on the road.
I hope to see everyone at our grand opening !!!
Cheers !!
Diego
PHILLADELPHIA TATTOO CONVENTION
Ill be tattooing at this year Philly Tattoo Show with Mike Shish , Mark Patrick and Mike Rickards. We will be next to Three Kings Tattoo and Ocho Placas Booth. I dont have any appointments booked so if you wanna set something up just email me or just walk up to the booth , ill have a bunch of sketches to choose from .
THREE KINGS TATTOO
This weekend ill be guesting at Three Kings Tattoo in Brooklyn NY , im booked up already but ill be taking 2 walk ins shifts , Friday 12-6pm and Saturday 12-6pm . Come by ans get a little banger from my book of sketches or just to say hi !
Hudson Valley Tattoo Co.
I super happy to announce that Im joining forces with one of the most talented artist in the area , Mike Shishmanian , and opening our own place in February 2014.
Hudson Valley Tattoo Company will be located on busy Rt 9, next to the lovley ladys at Locks that Rock and Planet Wings.
We are very excited for this new chapter in our lives and looking forward to provide the area with a unique and welcoming atmosphare .
Once again i want to thank everybody for the most overwelming support.
Thank you.
NOT LONGER AT GRACELAND
I wanted to let everyone know that i DO NOT work at Graceland Tattoo anymore. This comes a little late since i havent been at Graceland Tattoo since Thanksgiving, but i felt that i needed to clarified this, since some of my work still up on their Instagram and Facebook account. I appologize for not posting this sooner, but i had been super busy with the overwelming response i had from my loyal clients and friends.
As of now i working from my private studio, taking a hand full of carefully selected clients. I dont have plans to settle on a local studio as of yet but i will let everyone know if anything changes in the next few month.
If you would like an appointment , please contact me through my email or by text/call my cell (845) 532-5546.
I appreciate all your support and understanding .

Thank you so much
Diego
Pittsburgh
Im at Meeting Of The Marked Tattoo Convention in Monroeville Convention Center this weekend , come by and get a one of a kind tattoo design ive on my booth . Every design i have is fresh out the oven , never done before , and wont be replicated .
On the road again
Hello there ! In a few weeks I'll be hitting the road again. First stop is a little town outside Pittsburgh PA called Moon. My good friend Mark Patrick has invited me to come by Dooner's UP IN ARMS TATTOO shop for a few days before the 21st annual Pittsburgh Tattoo Convention in Pittsburgh PA. The dates are September 3rd- 8th.
I'm also thrill to announce that im heading back to Boon NC to see my friends Nicole and Greg Kinnamon , and the whole crew at Speakeasy Tattoo Co. , September 25th to Oct 3rd.
If you would like to get tattooed in any of this events please contact me here or call the shops for more info.
I hope to see you there !!!
Tattooing in Cape Cod MA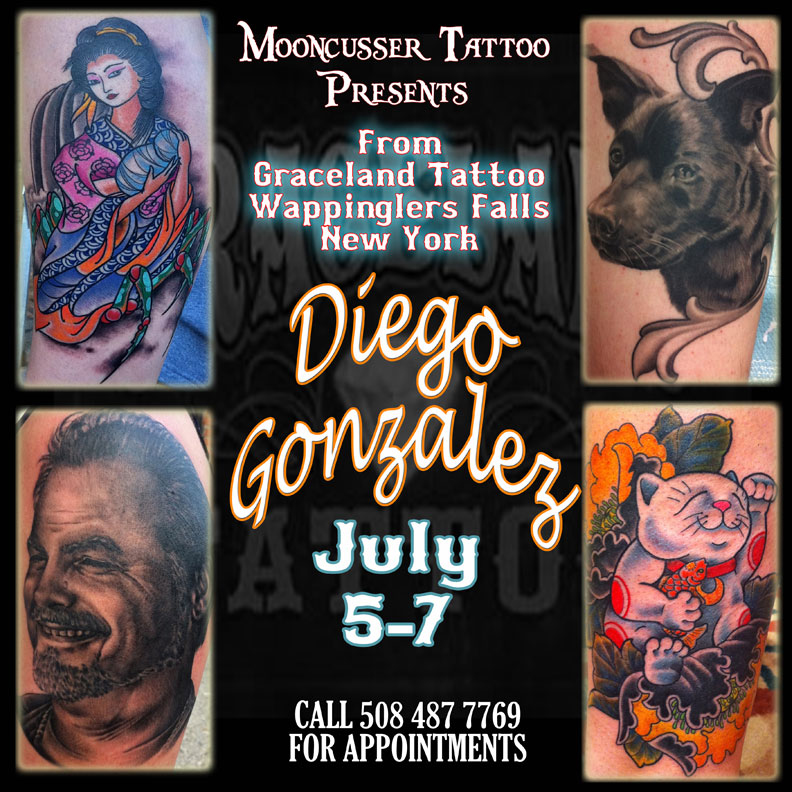 Im very excited to announce that ill be tattooing at my friend's Khristian Bennett Mooncusser Tattoo in Province Town MA from July 5th - 7th . I look forward to meet the crew and celebrate this coming 4th of July weekend with everybody. for appointments call the shop or email me here. thank you and I hope to see you there !!
Rochester and Off The Map MA
The crew of Graceland Tattoo and I , will be in Rochester NY this May 3rd-5th for the 5th annual Roc City Tattoo Expo. This convention has become one of the best conventions in the area, with world class tattooers with no TV Star attitude. If you are looking for a good place where to spent a weekend with great people, in a family like atmosphere , and get a tattoo that will last a life time, this is your place . i have Friday and Saturday open as of now , i will have my sketch book with me and also a few paintings for sale.
Also in May 17th-19th i will be heading up to the beautiful Easthampton MA, to visit the folks at Off The Map Tattoo. This is my first guest appearance in MA and i hope to make it here regularly . I'm taking appointments for this guest spot as well , just email me with your idea and we can set up a time.
Thank you and I will See you there !!!!
Diego
Thank you Tattoo Now
I would like to thank Tattoo Now for featuring one of my tattoos, is a huge honor to be selected as "best of the day" between a large number of super talented artist .
Thank you Gabe and the whole crew for the compliments , it put a big smile in my face.
Cheers !!!
Chicago Tattoo Convention

I will be attending this year Chicago tattoo Convention , i have a bunch of new paintings for sale and new tattoo designs that i would love to do. Send me a email if you wanna set up an appointment or just walk up . See ya there !!!!
Attention NC !!!
Im on my way to my good friend Greg Kinnamon, Speakeasy Tattoo Company in Boone North Carolina , ill be there From the Feb. 21st- 24th .
i have a a spots open for small tattoo or 2 so lets make something rad , call the shop (828) 355-9595 to make an appointment , or just walk in
Travel Update
I will be attending this year Philadelphia Tattoo Arts Convention, Feb 8th-10th. I am sharing the booth with Greg Kinnamon From Speakeasy Tattoo Company in Boone North Carolina. this is a last minute thing so my schedule is pretty much open for this show, i am taking appointment for this weekend and walk ups as well.
After this show is over ill be heading to Boone NC for a guest spot at Speakeasy Tattoo Company, i will be there from Feb. 21st -24th. I am very excited for this opportunity, I'm always looking forward to travel and see new places. For appointments and inquaries please contact the shop at
In March , ill be traveling to Chicago for the Chicago Tattoo Arts Convention, March 22nd-24th. Tim Mueller from LA California and Chris Dewitt with Amoeba Designs Tattoo machines are gonna be sitting with me at this show. Also, I'll taking appointments and walk ups thru the weekend
If you want an appointment with Tim go to www.timmuellerart.com and send him an email
You can find Chris's machines and art at www.amoebadesigns.com
Thank you and i hope to see you all there !!!
Massive update !!
I just uploaded some of my latest tattoo work and a few sketches that i would like to tattoo , ive more stuff that i will load up soon
Thanx for looking
Back on track
well i spent an hour writing this whole blog why i was absent for so long and some how it got erased , sorry .
anyway im back and i will post more often
Cheers !!!
Diego
Back to work and off to Richmond
After being away for more than 15 days, is good to be back home and working, my wife and i had an amazing time at the wedding and in our honeymoon. I want to thank those how shared this special moment with us .
On a side note , me and Adam Lauricella are hitting the road once again Friday 16th to attend the 20th annual Richmond Tattoo art Festival, in Richmond VA. The convention is located at The Greater Richmond Convention Center in downtown Richmond. We have the pleasure to share a booth with the very talented Hunter Spanks and Chris Tavino.
I will be taking walk ups all tree days , also i will have some prints for sale and trade .
i see you al there , thanks !!!!!
Diego
Back From Pittsburgh
Im back from Pittsburgh a day early due to the hurricane Sandy , I would like to thank Mark Patrick and every one at In The Blood Tattoo for letting my crash in their place for a week.
The convention was a blast , i met a buch of great people. Everyone a Kyklops were so welcoming, Chuck and Dave from Tattoo Faction are amazing artist and the nices guys you will ever meet. Keving Stress and Richard Cook from Red Tree are fantastic guys and very talented ( i will do my best to come by and visit them in ohio some day ) and Chris DeWitt from Amoeba Designs is the man , i got a sweet rotary machine that i cant wait to try.
JR Tubbs , Krooked Ken , Sugar bear , Dan Paone ... so many to name . THANK YOU EVERYBODY !!!!!!!
Till next time Pittsburgh.
Diego
Away we go !! Pittsburgh-Wedding-Richmond
Tomorrow, I'm flying to Pittsburgh to work at In The Blood Tattoo for a few days and attend The Meeting Of The Marked Tattoo Convention this weekend. I'm very excited to see Pittsburgh and hang out with my friend Mark and the guys from In The Blood.
After i come back from this trip, i will be marrying the love of my life, I'm very nervous and anxious to have this wedding. Its has been a year since we started planing and it was very stressful , we both are ready to be done with it .
Right after the wedding , we are going away for 10 days , i want to apologize in advance if i don't replay to emails .
Once i come back from my relaxing , well earned vacation, I'm off to Richmond VA, for the Richmond Tattoo Convention Nov 16th-18th.
If you would like to get tattooed just email me and i will try to get back to you but no promises lol
Wish me luck and i see you all in a month !!!!!
Thank you
Diego
Things are Happening at Graceland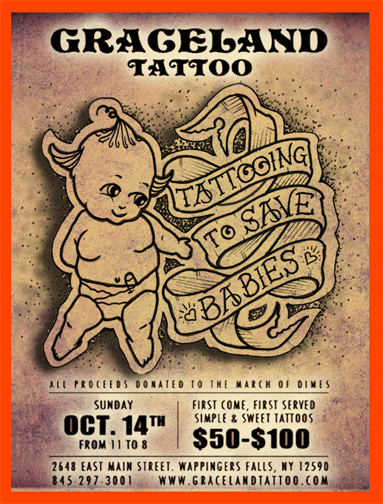 A few month ago we had the pleasure to meet Krooked Ken at Roc City Convention , he has for the last few years , run a foundraising for the march of dimes. We have decided to join efforts and have our own Event " Tattoo To Save Babies " day .
This Sunday October 14th from 11am to 8 pm , we will be doing tattoos from a selected flash sheet ( done by the crew of Graceland Tattoo) from $50 to $100 dollars , all proceeds will be donated to the march of dimes . So please come by and get a small and sweet tattoo and help a great cause !!!
On a different note Saturday October 20th we will be having a Art Show here at Graceland , every body at the shop will be showing original artwork . The show starts at 5pm.
This is the first time we are doing this but expect many more event like this one !!!!. We will have some snacks and drinks as well.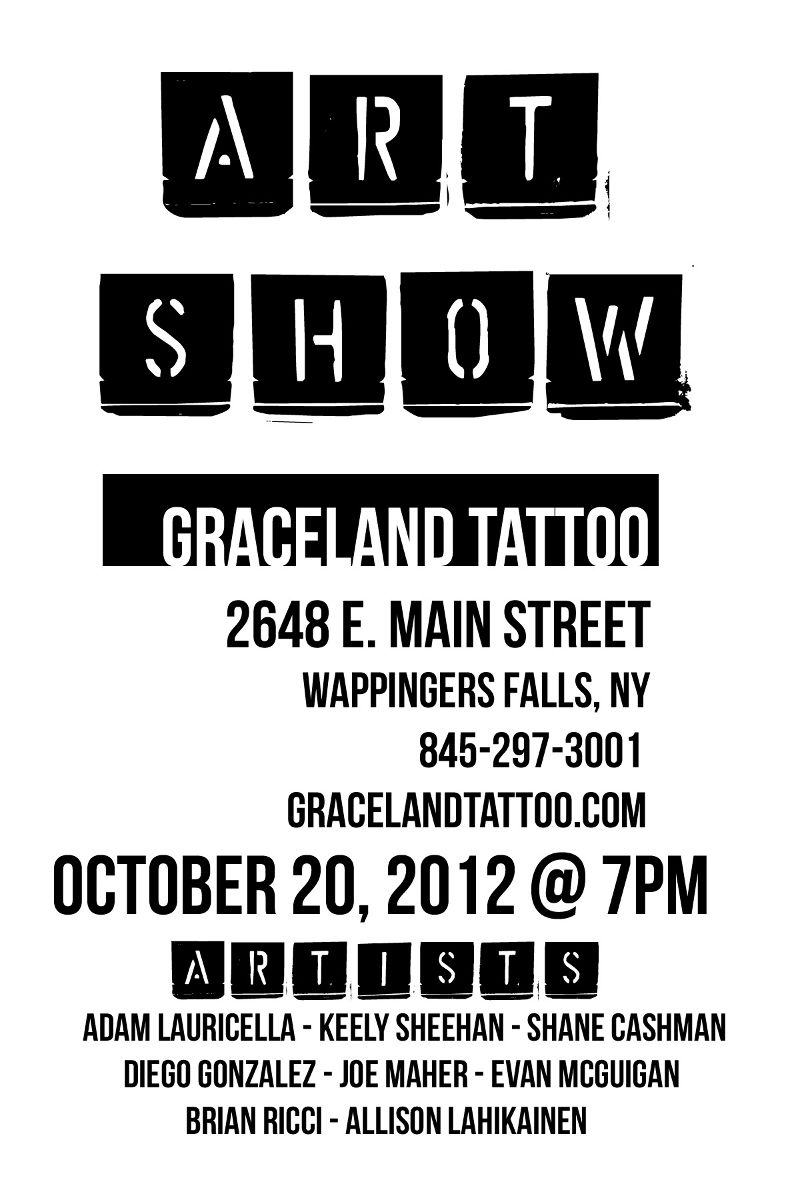 So come by Graceland Tattoo and check out our work ,buy some art , get a little tattoo, have a laugh and save a baby while you at it !!!!
Attention Pittsburgh Area !!!
i will be tattooing at " In The Blood Tattoo " from Oct. 23rd to 25th .I'm taking appointments for all 3 days, i will be doing walk ins as well.
That same weekend is the " Meeting Of The Marked Tattoo Convention" i will be sharing a booth with my good friend and co wrker Joe Maher next to the "In The Blood Tattoo " crew.
Also taking appointments and walk ups for thisshow .
The convention is held at Double Tree by Hilton, the dates are Oct. 25th to 27th
If you are interested in getting some work please shoot me an email.
Thank you and i see you there !!!!!
Guest Spot In Pittsburgh and Convention
I will be tattooing in Pittsburgh PA at " In The Blood Tattoo" From Oct. 23rd to Oct.25th . if you would like an appointment send me an email or call the shop (412)481-3380 .
Also i will be at the "Meeting Of The Marked Tattoo Convention" in Pittsburgh PA from Oct.26th to 28th, i have time open all three days.
See ya there !!!!!
Im Back From Paradise
Finally back home from Colorado, it was an amazing, time even thou we got a little sick from the altitude, we manage to have a blast.
I shared a booth with my co-worker Adam Lauricella , Ty Mcewen and Jose Lopez JR, an incredibly talented group we made, everyone with a different style.
I met the crew of Sol Tribe from Denver , Crystal Morey and the Gomeniko Crew from Japan ( Horimasa even tattoo me on a trade for a tattoo machine), hang out with Bob Tyrell and Gunnar . Also took Shawn Barbers oil painting seminar next to Jeremiah Barba and Nickhole Arcade ( i doubt thats her real name, is way cool ) both super talented artists. At the end of the trip i met Pepper on the shuttle back to Denver and hang out at the airport for a few hours waiting for our flights , she is a super talented atist and a sweet heart but dont make her mad or you will hear from her . hahaha
i wanna thank everyone that got tattooed by me this weekend and if you would like to send me a picture of your healed tattoo i will be more than happy !!
Overall, if you went and didn't have fun you sucked.
Thank you everyone at Off The Map and Tattoo Now for putting a top notch show once again, i hope to see every one soon . CHEERS !!!!!
Paradise Tattoo Gathering
One more week and i will be heading down to Keystone Colorado for the Paradise Tattoo Gathering Sept. 14th-16th .
i will be taking walk ups all 3 days, but if you wanna save some time with me , just send me an email.
Here are 2 of my most recent paintings, i will have them for sale at the booth. I will have a few more I'm working on , i hope i can finished them on time.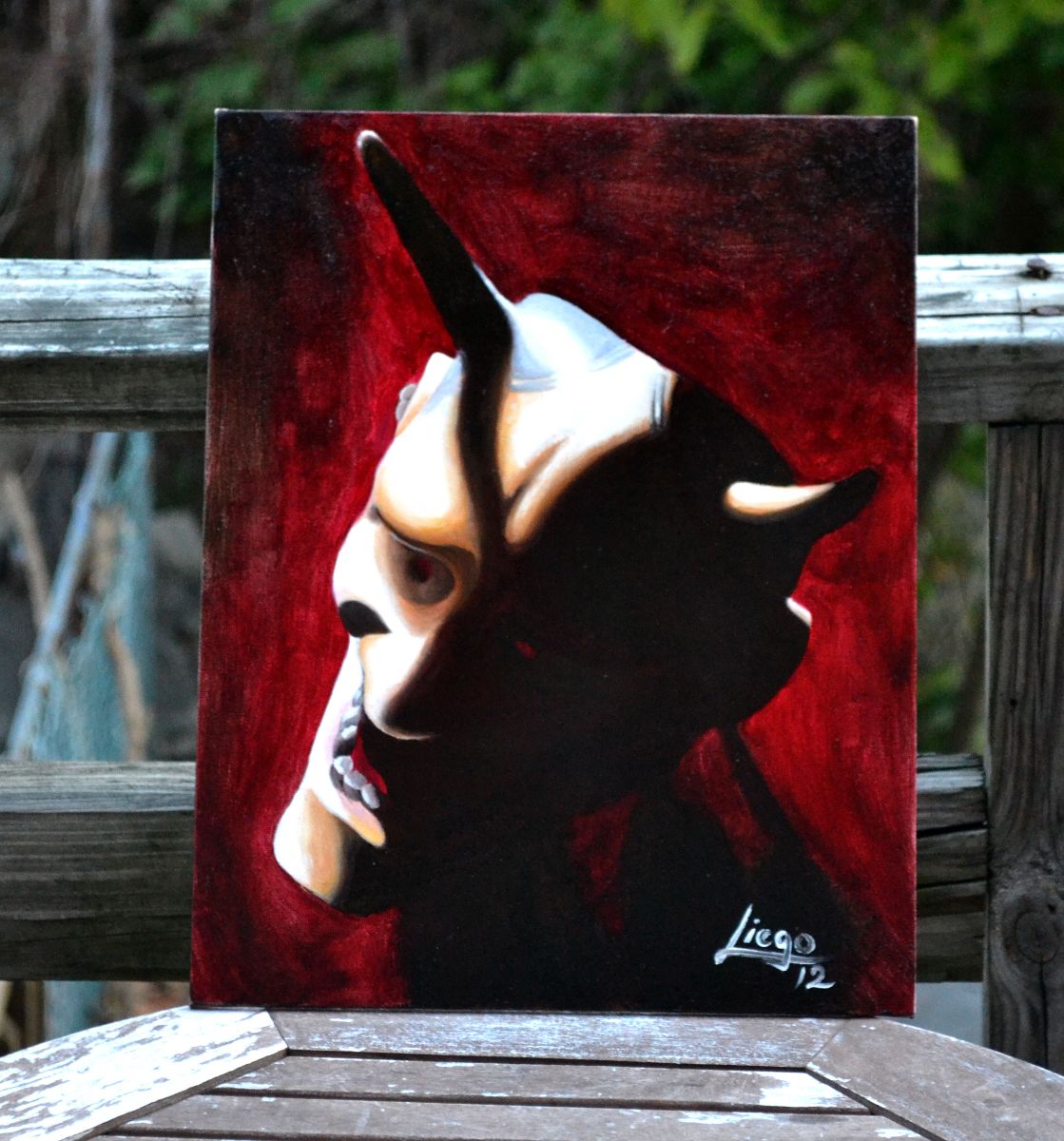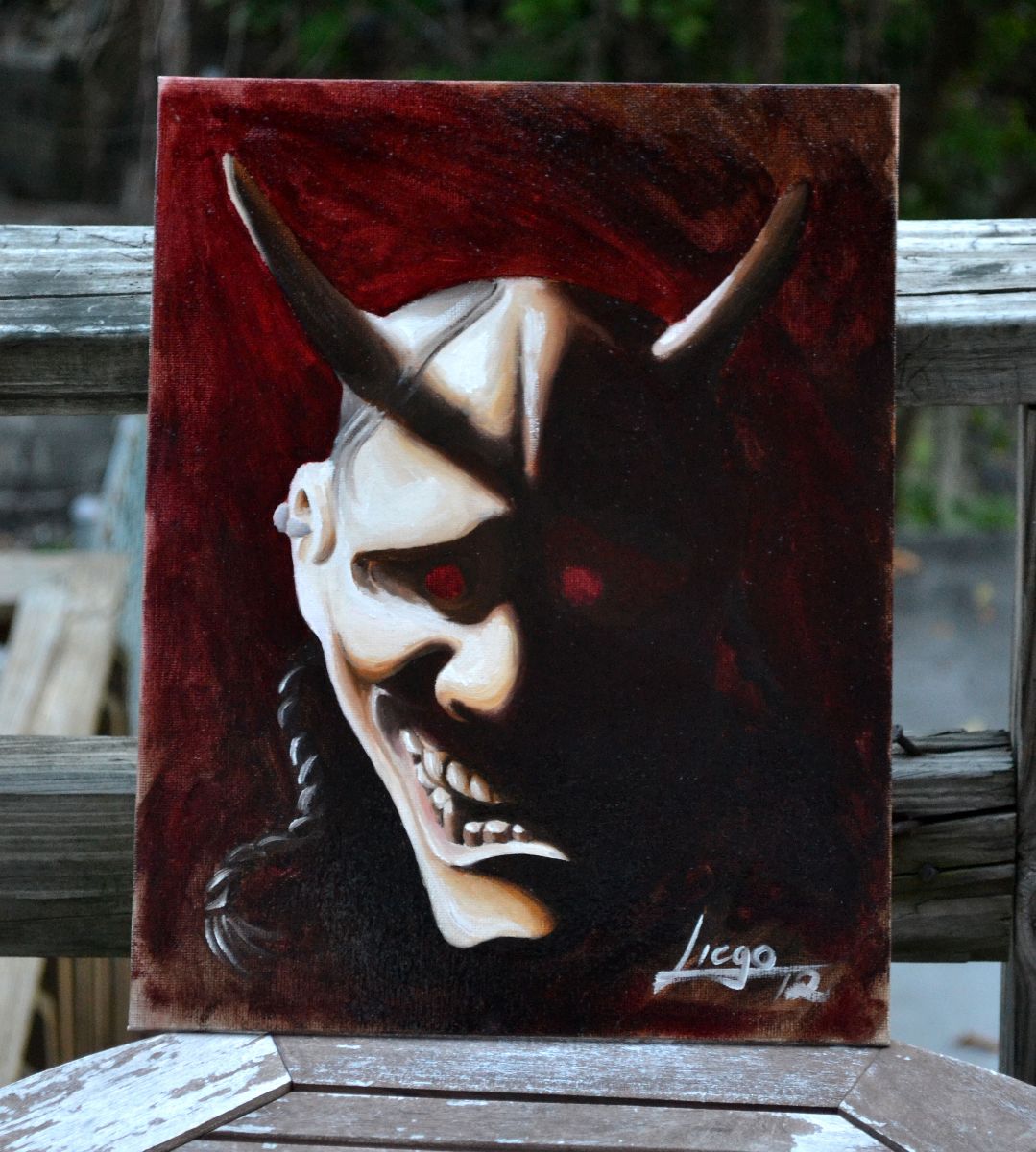 Walk-in's Today !!!
I will be taking Walk in's today Thursday August 30th from 12pm to 8pm . Come down and get something cool before i head out to Keystone, Colorado In 2 weeks !!!
Mobil App is READY !!!!!
After three long months, the super talented and smart crew of TattooNow gave me a surpising news, my personal mobil App was live for download at the Apple App Store !!!!!
I am more than pleassed with the results and i couldnt ask for a better group of people to work with, they where always on top of stuff and their technical support is top notch.
So go to Apple App Store and serch for Diegosart , download it , its FREE !!!!!!!!
Paradise Gathering and other News
Paradise Tattoo gathering is coming up fast, only a few more weeks and I will be in the beautiful mountains of Keystone, Colorado among many of the best national and international tattoo artists.
Its an honor for me to be included in a such a talented group , it also will be my first time doing a convention outside the east coast. I will be taking appointments and walk ups all 3 days so you can contact me here to set something up or just come by the booth.
Go to www.paradisetattoogathering.com for more info.
I'm also very happy to announce that I will be doing a gust appearance at "IN THE BLOOD TATTOO" in Pittsburgh, PA , Oct 23rd to 25th and right after that i will attend " Meeting of the Marked Tattoo Convention " , held at Double Tree hotel in Pittsburgh, from Oct 26th to 28th. I'm also taking appointments for this two events
Thank you and i see you there !!!!
Diego
Booking Appointments For Paradise Tattoo Gathering
Im honored and humble to announce, that i will be tattooing at this year Paradise Tattoo Gathering in Keystone Colorado, from September 13th to the 16th .
im booking appointments for all three days.
Walk ins Day !!
Thursday Aug. 9th from 12-8pm i will be taking walkings on a first come, first serve basis.
Im booking late October as of now , so if you wanna get a quick tattoo from me and dont wanna wait . this is the time !!!!!!
Walk-in's Today !!
Today Thursday July 19th , ill be doing walk-in's all day on a first come first served basis.
Call the shop at (845) 297-3001 or stop by.
I will be off this Friday and Saturday for my bachelor party in Atlantic City, so if you are around there find me and buy me a drink !!!!!
Visionary Tattoo Workshop
This July 21st at noon , Guy Aitchison, Michelle Wortman and one of my all time FAVORITE tattooer James Kern are having a Tattoo/Art workshop at Alex Gray Cosm Chapel Of Sacred Mirrors here in Wappingers Falls NY , right on my backyard !!!! ( not really but is about 1.5 miles from my house ).
Unfortunately i wont be able to attend but if you are a fan of tattoos and a good time you should DEFINITELY come by.
Here is the link https://secure.cosm.org/np/clients/cosm/event.jsp?event=948
Trying to keep up
So its has been a while since i updated this news feed , its very hard to keep up with all the social networks out there . I had recently deactivate my Facebook account and i had found my new addiction , TWITTER !!! . Along with INSTAGRAM , its the best way to share my artwork, tattoos, schedule and daily happenings .
Please follow me on
Twitter @diego_tattoo
Instagram @diego_tattooer
Thank you.
Open Time for Roc City Convention
Roc City Convention in Rochester NY is in 2 weeks and I still have a few spots open on saturday and sunday. Contact me for schedule
ROC CITY CONVENTION
I would be tattooing at Roc City Tattoo Convention 2012 in Rochester, NY . I would have t-shirts and prints for sale. Contact me here for appointments or come by the booth. Thank you and hope to see you there
Clutter Mag Article
I'm very fortunate to announce that Cluttermagazine.com had published an article about a collaborative tattoo Tim Muller and I did back in January. Since 2004 , Clutter Magazine has been promoting the underground art culture such as graffiti, skateboarding, music, toys and fashion . A well put together magazine that everybody should check out. Check out article here http://www.cluttermagazine.com/news/2012/04/diego-x-tim-mueller-tattoo-collaboration
New T-Shirts and Prints
I have new prints and t-shirts available for the upcoming Philadelphia Tattoo Convention this Feb 10-12.
You can also get them here , just email me.
Dragon Shirt = $20 + $5 shipping
Prints= $15 each or 2x $25 + $5 shipping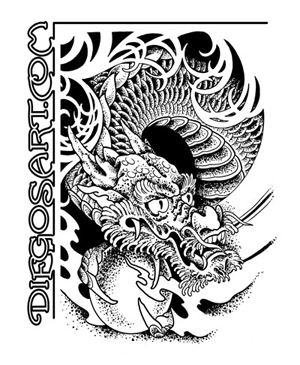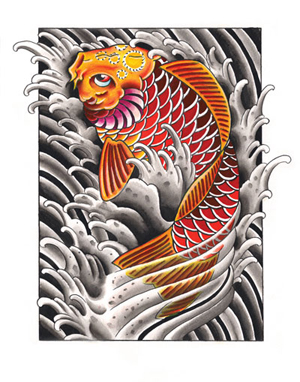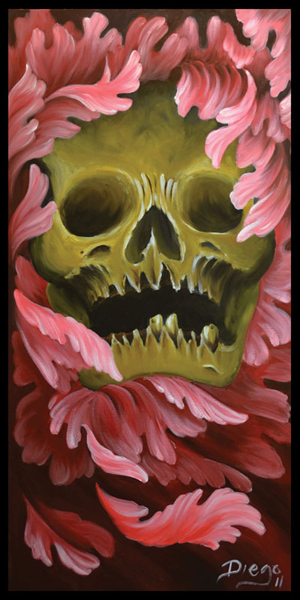 Philly Tattoo Convention
I will be working at this year Philadelphia Tattoo Convention alongside Pepper Maher. February 10th -11th -12th. If you want to get tattooed I still have some time open . Please email me.
Skin and Ink Magazine Article
I'm honored and humbled to announce that Graceland Tattoo and my self had been featured on the March issue of Skin and Ink Magazine. This is my first time to be published on a magazine of this magnitude.
I would like to thank Mary D'Aloisio and the whole staff of Skin and Ink Magazine for the great opportunity.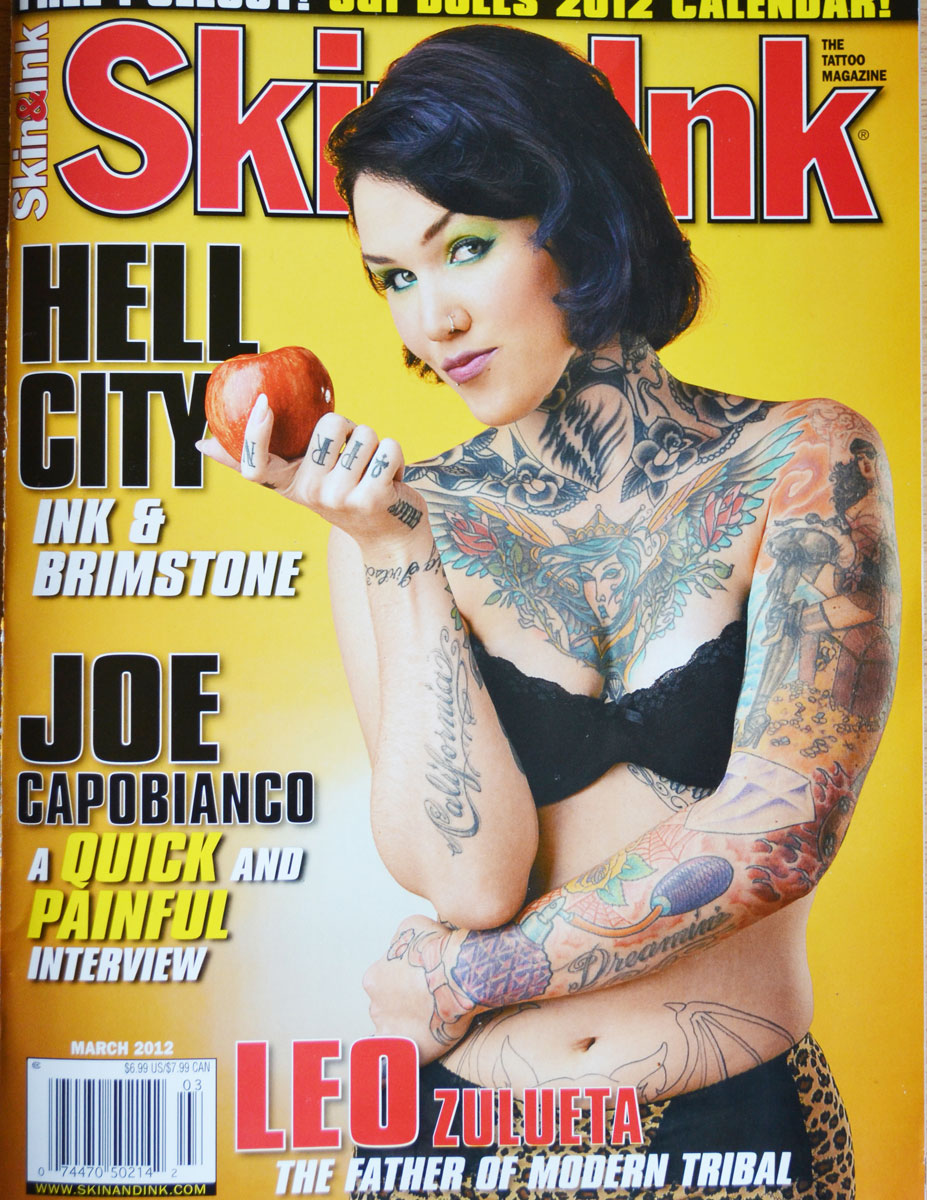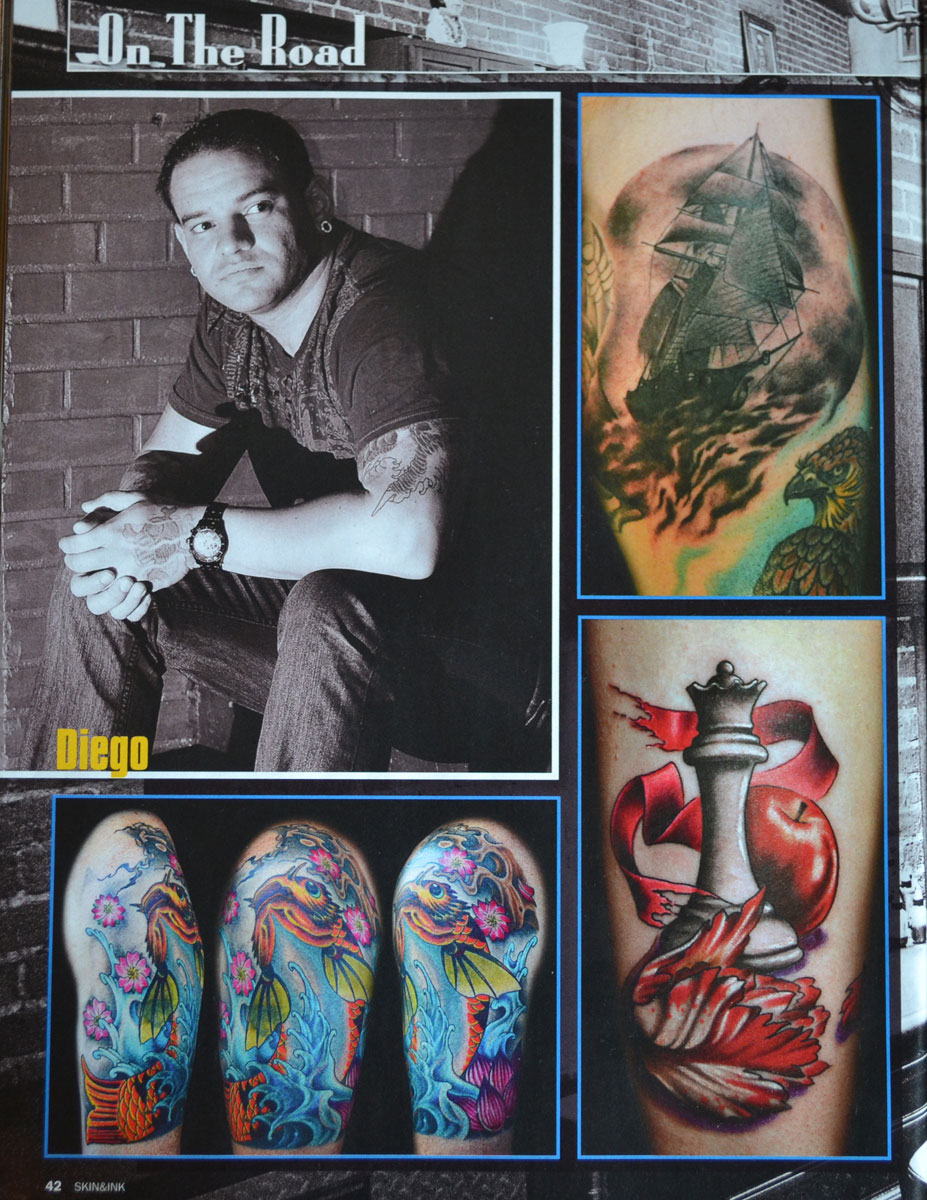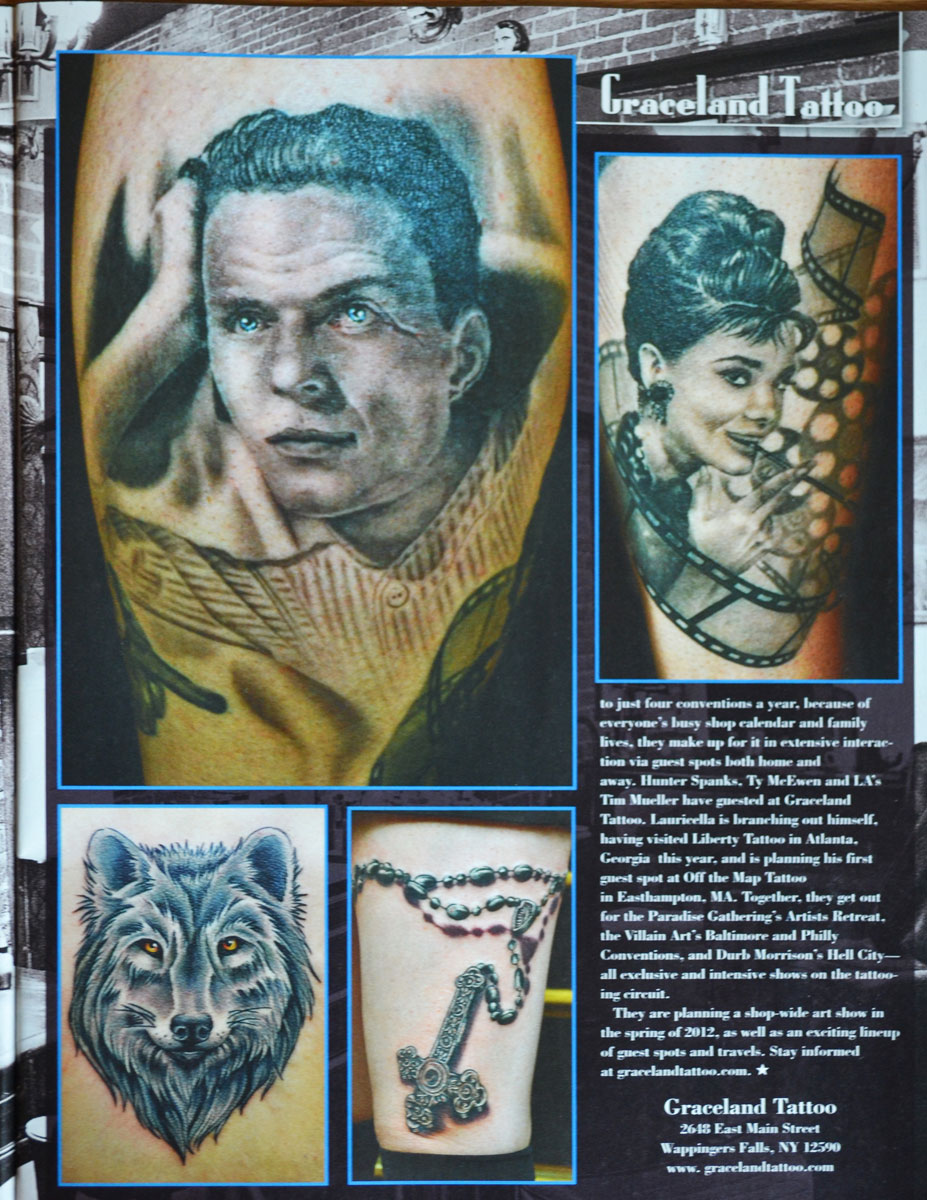 Collaborative Tattoo
Our Friend Time Mueller will be going a guest spot at Graceland Tattoo on January 10th-19th 2012.
Tim and I have been working on the idea of doing a collaborative tattoo, in which we both be working on the design and tattoo taking turns to create a one of a kind piece of art.
We are pretty much open to any ideas and will discus design and placement with the client, with an open mind.
The tattoo will be priced between $500-$800.
If you are interested in participate on this project, please contact me
Thank you !!!!
Tim and Diego
Guest Artist Tim Mueller
My friend Tim Mueller from Los Angeles, California will be doing a guest spot at our studio Graceland Tattoo, from January 10th-19th, 2012.
He is an exceptional artist and a great guy , check his work at Timmuellerart.com
Wow i havent update this in a month
Hey people sorry I've been MIA , i have been pretty busy with work and planing a wedding ( oh yeah in getting married next year !!!! ) .
We have been working on a magazine article recently, so stay tune for updates.
Convention update : Ill be at Philly Tattoo Convention February 2012 !!! Pepper and I will be representing . so plan ahead and make your hotel reservations
ill promise to keep this news feed more up to date in the future.
Thank you
Working at this year Paradise Gathering
So i just got the news that I've been invited to participate on this year Paradise Tattoo Gathering in Mass, What an honor !!, thank you Gabe and crew of Off The Map for the opportunity
Because of the short notice i have some time open , email me for schedule .
thank you and ill see you there !!
Im Back From Roc City
Im back at the shop this week after an amazing weekend in Rochester NY . I want to thank Jet and everybody at Love Hate Tattoo for putting an outstanding show, i will definitly come back next year.
For those affected by the hurricane, my prayers goes to them and their familys
Email is temporarily down
i just want to inform you that if u had try to email me, in the last few weeks and you have NOT received a response, is because my email is temporarily down.
If you need to contact me you can call (845) 297-3001, or email me directly at diego@gracelandtattoo.com - dgtattoo@gmail.com
thank you and sorry for the inconvenience
Diego
Roc City Next Weekend !!!!
Rochester tattoo convention is coming up ,i will be there all weekend. Contact me for an appointment , i wanna do some japanese work so i will have some kind of discount for those inquiring
Roc City Tattoo Convention
I will be working at the Roc City Convention , in Rochester NY, this year August 26th-27th-28th. Email me if wanna get some cool work, or just stop by to hangout !!!!!!!!! see you all there !!!!!!!
Paradise Tattoo Gathering 2011
I will be attending the Paradise Gathering no working at it, I will be taking seminars and hanging out with friends .
If you are an artist or a collector don't miss the opportunity to hang out and get some work from the best artists in the world.
Welcome !!!!!!
Welcome to my new site, I want to thank Gabe, Brian and the whole TattooNow crew that make this, one of a kind website.
In the next few weeks I will be updating my Tattoos and Artwork pages, please check back soon.
I hope you all enjoy my site as much as i do.
Thank you , Diego
Diego's News Page
Welcome to Diego's News/Blog page. Check back often to see whats oing on.